Everyone knows to wash their hands:
Handwashing is one of the best ways to protect yourself and your family from getting sick.
But then…
Hum the "Happy Birthday" song from beginning to end twice.
Alone in a bathroom singing Happy Birthday to yourself.
A dozen times a day.
Every day.
---
Could we use something else?
We thought so. So we collected poems of the right length.
Print them out, tape them to your mirror, and enjoy.
Really, try it. Here's a sample.
---
Order the collection
During the pandemic, the collection is free for hospitals, nursing homes, and other institutions of care. Email us at and we'll send it to you. For all others, all but $1 of the purchase price will be donated to charity, and you can choose to save $5 with the discount code covid.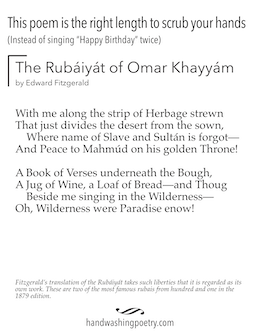 Twenty beautifully typeset poems, including works by
Robert Frost
William Shakespeare
James Joyce
Thomas Campion
and a dozen more, all enriching to read time after time.
Stop sadly humming happy birthday to yourself.
Frequently Asked Questions
Can't I just find and print my own poems?

Yes! Absolutely! We need more poetry in our world. If you find some good ones, please share them with us!

Can I see a sample?

Of course: here you go.

How do I contact you?

Email us at .

Who is choosing these poems?

For now it's a husband and wife team.

Handwashing poetry was Sonja's idea. Together we pored over poetry collections, and posted poems on our bathroom mirror to see if they held up to being read day after day.

How did you choose the poems?

First, was it the right length? Or could it be abridged without losing its soul?
Did it require obscure knowledge? Sonja had to inform Fred that certain references in centuries old verse were not common knowledge.
And did it charm? Could we enjoy reading it over and over until we posted the next poem?

Do you have permission to reprint these poems?

Yes. All poems we publish are either properly licensed from the rightsholder or in the public domain. The first collection is all public domain. If you like the idea, buy a copy so we have money to pay living poets for their work.

Are you going to do more collection?

We hope so! We have lots of poems we would like to share.

You should include this poem…

Please email it to us!

Can you send me a printout?

During the CoVID-19 pandemic, we are not sending out any physical goods. Eventually we hope to produce handwashing poetry on sticky pads to make it easy to slap up on your mirror.